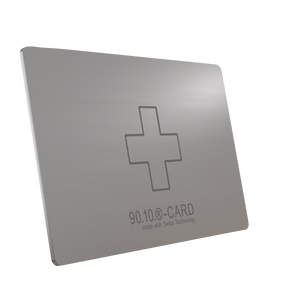 The 90.10.-CARD was developed to accompany you on every path and to every place. Due to its practical credit card size, it can be easily stored in the pocket of pants or a jacket, and in a wallet.
Content:

 

1 piece
Size:

 

3,5 x 2 inches (WxH)
Material:

 

The card consists of thin aluminum. Its surface is sealed with colorless anodic oxide. The aluminum protects against electromagnetic interference effects.
Energy output:

 

6 QEPPs
More information can be found on our community website.
There is an upgrade for this product: the MasterFunction. It allows you to determine how high the energy output is and which frequencies are stored. You can get the upgrade in our Quantum Download Network (QDN). Click here to get a MasterFunction for your card.